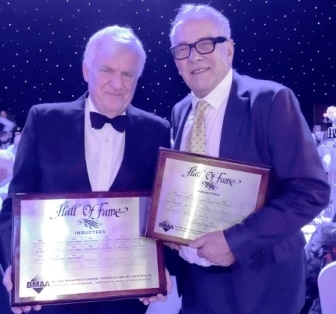 2019 Hall of Fame Inductees
Christopher Nolan and Tony de Maaijer
Christopher Nolan, Managing Director of the Nolan Group
Chris is the Managing Direcor of the Nolan Group, a national distributor of industrial textiles and outdoor blind and awning fabrics and related fittings, trading from seven locations nationally.
Chris was elected to the BMAA Board of Directors in November 2010. He has been the Chairman of the committee that has organised the three BMAA/STA extremely successful SuperExpos that have been held.
Tony de Maaijer, Managing Director of Ziptrak
Tony is the founder of Ziptrak Pty Ltd and inventor of Ziptrak Outdoor Blinds. Tony and his wife have had a significant impact on the industry as the popularity of the new track-guided outdoor blind category has resulted in job creation throughout Australia with many small and large businesses that distribute, fabricate and retail Ziptrak products.
2016 Hall of Fame Inductee
Frank Cairns
Frank Cairns, CEO of Decor Blinds, has been in the window covering industry for over 30 years. He is an active member of BMAA, and has been involved in a number of committees such as the Cord Safety committee, the membership committee and more recently the WincovER™ Business Case sub-committee.
2015 Hall of Fame Inductee
Robert Bailey
Robert joined Flavel Blinds in Adelaide in 1971 (which was part of the Hunter Douglas group). This was the beginning of the national Luxaflex brand. After 12 years with Hunter Douglas, Robert returned to Adelaide to start up his own business, Bailey Blinds.
Originally specializing in bonded blinds, it wasn't long before the company was producing the full blind and curtain range.
2014 Hall of Fame Inductee
Peter Meyer
Chairman of the Board, Blinds by Peter Meyer
Peter Meyer retired in 2012 from direct involvement in the business, but is still Chairman of the Board of "Blinds by Peter Meyer". Peter is a BMAA Director, is Chair of the BMAA Membership Committee, and has been involved in the Child Safety committee.
2013 Hall of Fame Inductees
Kristine Brown
General Manager, Decor Blinds Australia Pty Ltd
Kristine has been involved in the industry for over 40 years, beginning with 13 years at Luxaflex, then over 20 years with Uniline Australia. For the past three years, Kristine has been the General Manager of Decor Blinds Australia Pty Ltd.
Kristine was instrumental in the growth and development of the BMAA, having been a founding Director, and serving as a Director for many years.
Kristine also served as President of BMAA for several years.
She played a key role in the success and growth of the BMAA Expos and functions, dating back to the first Queensland expo in 1991.
2013 Hall of Fame Inductees
Peter Hartland
Managing Director, Hartlands Blinds
Peter has been involved in our industry for over 50 years, since starting out working in his parent's business in 1963. Hartlands Blinds has always been at the front line in encouraging innovation and change and taking on new products and systems, as well as assisting in the development, testing and refinement of new products for the betterment of the industry in general. Peter is a Director of BMAA and has been heavily involved in BMAA activities, including many past expos, and has represented our industry in matters of Industrial Relations and Training.
2013 Hall of Fame Inductees
Carmelo Licciardi
Managing Director, Acmeda
Carmelo has been in the industry since 1973. The company started wa LIDI Australia, a family business with his brothers importing vertical hardware and fabrics from Italy, and one of the first to introduce verticals into Australia. They then introduced venetians from Japan.
Carmelo left LIDI in 1989 and started SBRIGGS Pty Ltd, with the ACMEDA brand being born in 1990.
Carmelo and his company ACMEDA have built an Australian brand worldwide, and the work Carmelo has done promoting the Australian Blind Industry has ensured we are recognised as world leaders for innovation and trends.
2013 Hall of Fame Inductees
Ross Emms
Managing Director, Ireland Blinds
Ross joined Ireland Blinds in 1971 to manage the growing business which had been in operation for 14 years at Ipswich, Queensland.
In 1977 Ross first became involved with the Venetian Blind Manufacturers' Association of Queensland (VBMA). In 1989, Ross was elected as President and during his tenure, an opportunity was made available for the Queensland President of VBMA to present a proposal for an Expo on the Gold Coast, rather than Sydney where some trade shows had been held. The proposal was accepted and the first Expo held at Sheraton Mirage on the Gold Coast was a great success. Ross continued with his hands-on involvement in many future expos.
He was elected as Vice President of BMAA in 1992, and he has continued to serve in this role as well as a Director of BMAA.
2013 Hall of Fame Inductees
Ron Bayley
Managing Director, Ozroll/Modern Group
Ron's contribution to the Roller Shutter industry is second to none. Through his marketing strategies, aluminium window roller shutters received recognition, and Ron went on to invest funds to establish a world-class manufacturing facility that in turn led to the birth of Ozroll.
Today Ozroll deals with many recognised companies across the country that have either added roller shutters and louvres to their existing infrastructure, or opened up a new business.
Ozroll is currently the largest wholesale roller shutter manufacturing business in Australia.